Recompose – Gmail Add-on
Use quick shortcuts to compose a Gmail message based on the current message:
Forward as New lets you re-send a message to different recipients. It opens a new draft using the current message's subject and body, but leaving To, Cc, and Bcc blank.
Compose to Same lets you compose a new message to an existing group of recipients. It opens a draft with blank subject and body, filling in To, Cc, and Bcc from the current message.
Send Similar lets you update a recurring message to a group of recipients. It opens a new draft using the current message's To, Cc, Bcc, subject, and body.
What's the point?
Gmail is great, but some common things take a lot of steps. For example, to resend a message to a different address without the add-on, you would:
Click 'Forward'
Select the first 9 lines
Hit 'Delete'
Choose 'Edit Subject' in the dropdown
Select 'Fwd: ' in the subject line
Hit 'Delete'
Get on with life
Not the end of the world, but after the 50th time you want something quicker. With the add-on, it's one click!
Installation
In the desktop version of Gmail, look for a sidebar like this at the right of the screen:

If you don't see it, click the little arrow at the bottom right of the Gmail panel to make it appear:

Once you see the sidebar, click the + sign to "Get Add-ons".

A panel opens, with a "Search Gmail Add-ons" box at the top. Type "Recompose", and hit "Enter".

Click on the "Recompose" box in the search results.

Click the blue "Install" bar, and continue as it prompts you.

The final step asks you to allow a list of Gmail permissions. Rest assured that Recompose will do nothing more than create the drafts you request.
Usage
After installation you can click the red Recompose icon

in the sidebar to open the Recompose panel: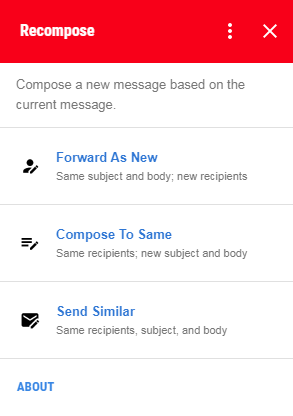 Clicking one of the actions opens a new draft, initialized as described above.
Forum
For help and discussion, see the Recompose forum.
Privacy policy and terms of service
A short privacy policy, and terms of service.
Credits
Author: Rick Mohr
Icons: Material Design Icons